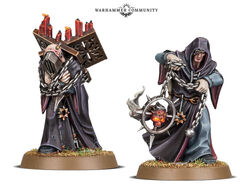 A Dark Disciple is a normal human Chaos Cultist who serves the Dark Apostles of the Word Bearers Traitor Legion and other Heretic Astartes forces.
Dark Disciples are true believers in the Chaos Gods who seek to spread their worship and influence across the worlds of the Imperium of Man.
Sources
Community content is available under
CC-BY-SA
unless otherwise noted.