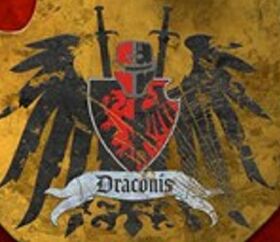 Danial Tan Draconis is both the current leader of House Draconis and the ruler of the Knight World of Adrastapol, an elected position which carries with it dominion over the entire Majestis System. Gaining the title of High King under the difficult circumstances of the Donatos War, where his father, the previous High King was cut down by those he once called friends, the young Danial Tan Draconis quickly grew into a seasoned leader and a fine tactician, saving the campaign from ultimate disaster and reclaiming the Industrial World of Donatos Primus in the name of the Holy God-Emperor.
Whereas most rulers of a Knight World are fierce traditionalist, High King Danial Tan Draconis can be considered exceptionally progressive for a man of his situation and upbringing. On Adrastapol, he is the instigator of several profound changes in Adrastapolian society, such as industrialization and expansions programs, the creation of a true Planetary Defence Force, better housing and living conditions for the serf-classes and a true equality between male and female Knights.
While many of these measures proved unpopular with the staunch traditionalist of House Minotos, others, like the rulers of House Pegasson approved of it. In hindsight however, it is clear that without those measures enacted quickly by Danial Tan Draconis, Adrastapol would have fallen to the savage Orks of WAAAGH! Killfist, which very nearly conquered Adrastapol.
History
Notable Campaigns
Wargear
Sources
Kingsblade (Novel) by Andy Clark
Knightsblade (Novel) by Andy Clark
Community content is available under
CC-BY-SA
unless otherwise noted.