"Such delightful horrors I have wrought. Such bounteous rot and disease have I bestowed in the Grandfather's name. Yet always there must be more, for with every world I ruin, so Nurgle rewards me further, and so my might grows ever greater."


—Viluthrox the Maggotfather
A Daemon Prince of Nurgle is a former mortal or Heretic Astartes servant of the Chaos God Nurgle who has accomplished so much for the Plague God that he or she has been transformed into an immortal Daemon Prince.
Daemonhood; ascension; immortality and otherworldly power. Such are the ultimate rewards that the Heretic Astartes and other mortal followers of the Dark Gods strive for. They will commit any atrocity, pay any price, and even part with their immortal souls for a chance to become a Daemon Prince.
Most never achieve their goal, falling to the blades of their foes or devolving into hideous Chaos Spawn. Yet for those who do climb this final pinnacle, incredible power awaits.
Daemon Princes of Nurgle are lumbering abominations whose unnatural resilience renders them nigh-invulnerable. They are swollen with power, their groaning, corroded armour burst open by the bulging flesh within. Layers of rotting flab and putrid innards spill from their necrotic skin, insulating them against small arms fire, while notions of pain or weakness are long forgotten.
Even direct hits from tank-busting weaponry do little to slow these immortal horrors, for though they may punch through the Daemon Prince's body, this will achieve little but spray infected pus and slime across friend and foe alike.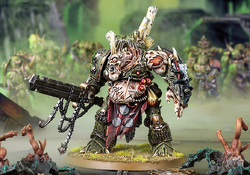 Grotesque resilience is far from the only power exhibited by these ascendant beings. Daemon Princes of Nurgle possess the strength to heft a battle tank and hurl it through the air, while every swing of their rusted blades and putrid claws smashes enemy warriors from their feet. Many possess psychic abilities, moulding the energies of the Immaterium to their will and unleashing them in the form of plague outbreaks, torrents of infectious slime, or hideous, wasting hexes.
Some Daemon Princes can even fly, enormous insect wings or spiralling vortices of noxious fumes carrying them across the battlefield. Their bodies may exude corrosive spores and deadly viral strains, or form squirming hatcheries for swirling clouds of plague flies.
In every case, the Daemon Princes turn these dark powers to the spreading of Nurgle's blighted gifts, and the destruction of the Plague God's many foes.
Role
Amongst the ranks of the Death Guard Traitor Legion, Daemon Princes act as warlords, leading the XIV Legion's sepsis cohorts and vectoriums into battle. Their followers unquestioningly obey their commands; not only do Daemon Princes retain their martial skill and cunning from their former lives, but they are also the living embodiments of Nurgle's favour.
The Death Guard worship these beings as demigods, second only to their Primarch Mortarion in unholy might. Yet for all this, the grim truth is that the Daemon Princes of Nurgle have swapped the fetters of mortality for slavery of another sort.
They revel in their diseased might, blind to the irony that immortality has bound them inescapably to Nurgle's will for the rest of eternity -- their souls no longer their own.
Unit Composition
Wargear
Notable Daemon Princes of Nurgle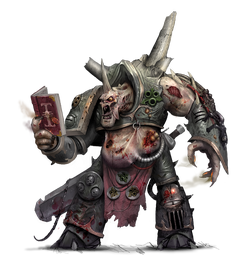 See Also
Sources