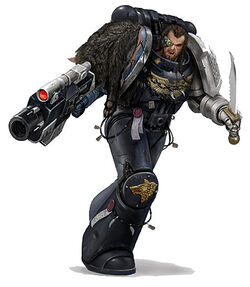 A Combat Knife is the ubiquitous back-up melee weapon for warriors all across the Imperium of Man, be they lowly hive city scum or the elite soldiers of a Planetary Governor.
During the time of the Great Crusade, combat blades were a catch-all category which described a variety of lethal hand-to-hand weapons favoured by the Space Marine Legions, the exact form varying from Legion to Legion by its culture and tradition.
They ranged from heavy razor-edged chain-bayonet, to adamantium Gladius and Thule-alloy battle-axes that would be too heavy for an unaugmented human to wield.
In the 41st Millennium some of these blades, such as the Catachan Fighting Knife, are designed for a specific purpose, whilst others, such as the ubiquitous Astartes Combat Knife, are more generic in nature.
This latter weapon is still utilised by Space Marines and Chaos Space Marines, though these blades are easily the size of a human sword.
Known Imperial Patterns of Combat Knife
Known Chaos Patterns of Combat Knife
Æthéme Blade - A weapon popular among assassins and cult leaders, an æthéme blade holds various types of poisons or other foul liquids within specially designed channels. A simple press of a small button releases enough to coat the edge of the blade, allowing each slash to bring about more pain than a simple knife ever could.
Chain Dagger - Small in size, these miniature weapons can easily be brought into play from hidden holsters. Their increased deadliness can literally give an edge in knife fights.
Flensing Blade - The refined version of the more common meatworking knife, a Flensing Blade is designed for actual combat where its wide and thin surface can slide to the bone, removing flesh in long strips of raw meat. Most are perhaps a metre long and made of special ceramics that can hold the edge despite their thinness. All are a product of underground cults of carnivores commonly found amongst the crews of vessels that frequent the Screaming Vortex. These sadistic cults take special delight in making their foes part of their ceremonial feasts.
Sources
Black Crusade: Core Rulebook (RPG) pp. 166-168
Black Crusade: The Tome of Excess (RPG), pg. 37
Codex: Catachans (3rd Edition), pg. 17
Deathwatch: Core Rulebook (RPG), pg. 156
Index Astartes I, "Lightning Attack - The White Scars Space Marines Chapter, and "Blood Frenzy - The Flesh Tearers Space Marine Chapter", pp. 41, 49
Only War: Core Rulebook (RPG), pg. 187
The Horus Heresy - Book One: Betrayal (Imperial Armour), pp. 19, 234
Warhammer 40,000: Rulebook (5th Edition), pg. 97
Gallery