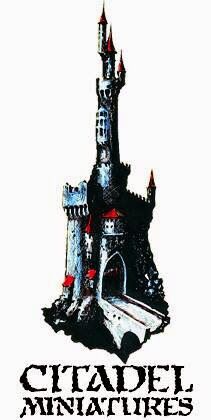 Citadel Miniatures Limited produces metal and plastic miniatures for tabletop wargames such as Warhammer Fantasy and Warhammer 40,000. In the past Citadel Miniatures was a separate company but it has become a brand for Games Workshop miniatures. Although its models are used for the wargaming hobby, the painting of its miniatures (and miniatures in general) is a hobby in itself.[1]
History
Citadel Miniatures was formed as part of the British game company Games Workshop in 1979.[2] Its formation was announced in White Dwarf issue 11 in early 1979:
Games Workshop and Bryan Ansell have got together to form Citadel Miniatures, a new miniatures company that will be manufacturing several ranges of figures. Ral Partha are already in production, but Citadel will also be producing own ranges, including the Fiend Factory figures, Fantasy Adventurers and Fantasy Specials. Citadel will not be limiting production to SF/F figures, but also new ranges of historical wargaming figures
The following issue of White Dwarf contained the first advertisement for Citadel's forthcoming figures.
Materials and Construction
Originally miniatures were produced using a white metal alloy including lead, although in 1987 Citadel began to produce plastic miniatures as well under the name "Psychostyrene" and "Drastik Plastik". These were made of a harder plastic than other plastic miniatures at time and allowed for greater detailed sculpting. Citadel has continued to produce white metal miniatures as the economics of plastic make it only suitable for large runs.[3] Some models are a combination of both materials, with the arm-less bodies and heads metal and the arms, weapons and other accessories plastic.[4]
In 1997 Citadel switched to a lead free white metal because of concerns about lead poisoning particularly in children.[5]
Most of the models created by Citadel require some form of construction after purchase. With smaller models this usually involves attaching arms, weapons and the base. Larger models come in many pieces and require more construction.
Model ranges
From 1979 to 1984 Citadel had a reciprocal distribution and manufacturing deal with Ral Partha to bring each others products to Britain and North America respectively.[6]
Citadel has also produced and distributed miniatures under other names:
Over the years, as well as producing their own original miniatures, they have produced licensed ranges based on characters from games, movies, TV and books. These included figures based on RuneQuest, Fighting Fantasy, Judge Dredd, Doctor Who, Paranoia, Eternal Champion, Dungeons and Dragons, Advanced Dungeons and Dragons, Traveller, Star Trek, Lone Wolf and The Lord of the Rings and The Hobbit. Games Workshop re-won the Lord of the Rings license, allowing them to make the The Lord of the Rings Strategy Battle Game miniatures to tie-in with the trilogy of films released by New Line Cinema, and have extended the range to include characters based on the actual writings of J.R.R. Tolkien.
Citadel Miniatures sometimes release limited edition models of specific or unusual characters, such as Thrud the Barbarian,[7]Ian Livingstone[8], drunken Space Marines dressed in Christmas outfits [1] and several representing a white-bearded dwarf, the logo of White Dwarf magazine[2][3].
Along with the standard range of miniature soldiers, Citadel's lines include fantasy based war-machines, like catapults and chariots, and when Warhammer 40,000 came out, Citadel Miniatures also branched out into vehicles, such as the Land Raider and Rhino armoured transports for Space Marines.
See Also
External links
Notes
References
Community content is available under
CC-BY-SA
unless otherwise noted.