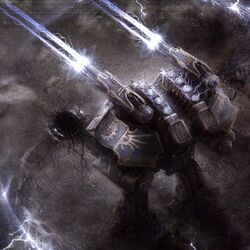 The Ciricrux Anima is a forbidden psychic amplification technology first developed during the Dark Age of Technology and permitted for use only by the Emperor's direct command on the Warlord-Sinister-class Psi-Titans of the Ordo Sinister.
In place of the moderati who would normally crew a Battle Titan, a Psi-Titan is instead crewed by the damned: bound psykers who are surgically locked in place and slaved to the will of the psychic Null who serves as the Psi-Titan's preceptor-intendant and who masters the god-engine in place of a princeps.
By direct cortical control, the powers of the slaved psykers are siphoned off and focused by the arcane technologies of the Ciricrux Anima, the baleful device that truly makes the Psi-Titan what it is.
The Ciricrux Anima allows a Psi-Titan to project its suffering internal psykers' powers externally, meaning that a Psi-Titan can unleash waves of abject fear, wield psychokinetic abilities, leech away the life forces of other combatants through biomancy, and even distort the flow of time to heal itself.
Sources
The Horus Heresy - Book Seven: Inferno (Forge World Series) by Alan Bligh, pp. 134 (Image), 282
Community content is available under
CC-BY-SA
unless otherwise noted.