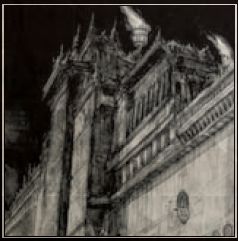 A Cemetery World is an Imperial planet where large areas of the planet's surface have been given over to care for the remains of the honoured Imperial dead. They are administered by the Ecclesiarchy just like Shrine Worlds.
Cemetery Worlds may mark the site of a massive battle, or they may be covered in gigantic mausoleums, each dedicated to a particular Imperial noble family. In contrast some rare Cemetery Worlds may be covered in fields of endless, modest burial plots containing the remains of the inhabitants of a nearby Hive World.
Notable Cemetery Worlds
Sources
Legion of the Damned (Novel) by Rob Sanders
Download from Dark Heresy, "Worlds of the Calixis Sector"
Codex Adeptus Astartes - Deathwatch (8th Edition), pg. 25, "Contact Lost"
Codex: Genestealers (8th Edition), pg. 33
Codex: Genestealers (7th Edition), pg. 51
Community content is available under
CC-BY-SA
unless otherwise noted.