"A Captain leads from the front. By his example shall his men know what it is to be of the Adeptus Astartes, and from his teachings shall they learn the trade of battle in the Emperor's name. No ordinary man can a Captain be, for many are the paths to victory and he must be master of them all. His very being shall be an extension of the Emperor's work. With every strike of his sword, with every word of his speech does he reaffirm the ideals of our honoured master. He will vanquish darkness and heresy with every thought, word and deed. So shall his coming be a sign of deliverance to the dutiful and a herald of dismay to all traitors. No living man shall stay his wrath."

— From the teachings of Roboute Guilliman, the Apocrypha of Skaros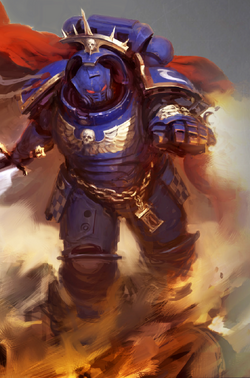 A Captain is a senior Astartes or Primaris Space Marine officer who commands one of the 10 companies in a standard Space Marine Chapter or Primaris Space Marine Chapter that follows the dictates of the Codex Astartes. These hardened Veterans have proven themselves in the maelstrom of battle as members of their Chapter's elite 1st Company, or through their bloody and dedicated service in their own company prior to the death of their predecessor and their ascension to command. As penultimate masters of the battlefield, Captains are able to read its ebb and flow, and adjust their battlefield formations accordingly. Leading from the front, by his example shall a Captain's men know what it is to be an Adeptus Astartes, and from his teachings shall they learn the trade of battle in the Emperor's name.
A Space Marine commander is a determined leader whose rank speaks of a past littered with beaten enemies. It is not enough for a commander to simply be a skilled fighter; he must also have a superhuman grasp of strategy and tactics in order to guide his forces to victory. Centuries of battlefield experience have taught him every facet of war, trained him in the tools of slaughter and honed his wits to the level of instinct. With the merest glance, a commander can appraise a war zone, see every threat and opportunity presented by the shifting lines of battle, and divine how victory can be assured.
Clad in their personalised heraldry, wielding ancient relic weapons, some of which date back to days of the Horus Heresy itself, Space Marine Captains are amongst the most inspirational figures in the Imperium. Each is a skilled orator and strategic genius who leads his brothers to victory time and again. A company's warriors obey their Captain's orders without question or hesitation, trusting in his many solar decades of experience to conduct them. The Captain's guidance increases the value of his Battle-Brothers tenfold, and he justifies their faith in him with every command. A Captain coordinates his warriors with deadly precision and inspires his followers to fight with a dedication and spirit that cannot be instilled by discipline and training alone.
Role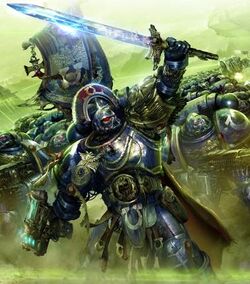 Each Captain is a hardened Veteran Astartes, a master strategist who has proven his prowess in battle as a member of the Chapter's elite 1st Company, or through distinguished service in his own company as a squad Sergeant prior to the death of his predecessor.
In addition to his Chapter rank, each Captain also bears one or more honorific titles associated with the command of a particular company or responsibility. Some, such as Master of the Watch and Master of the Recruits, are common titles in use across almost all Space Marine Chapters whilst others, such as the White Scars Master of the Hunt, are products of a specific Chapter's history and culture. These titles often bring with them additional duties and responsibilities. For example, the Master of the Fleet must be just that: not only a skilled commander but an expert at void warfare who looks to the upkeep, deployment and – on occasion – command of his Chapter's Battle Barges, Strike Cruisers and Escort frigates. Equally, the Master of the Rites has a secondary role that tallies closely with that of the Chaplains of the Reclusiam. To him falls the honour of leading many of his Chapter's most sacred rituals alongside the Master of Sanctity, and it is his responsibility to ensure that all companies are joined by a sufficient strength of Chaplains. Other titles are products of a particular Chapter's history, culture and military specialties. The Captain of the White Scars' 4th Company is traditionally the Master of the Hunt, while the Aurora Talons Chapter, specialising in space warfare, maintains no less than five Master Bombardiers among their company Captains. The Raven Guard, for example, name theirs Shadow Captains, whilst the Black Templars use the epithet Marshal.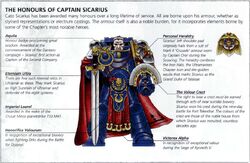 Individual Captains can also be assigned to command missions that require the deployment of elements of the Chapter beyond their own company. In these situations an individual Captain takes on the temporary rank of Force Commander and gains precedence over even other Captains assigned to this mission. It is not enough for an Astartes Captain to be a skilled warrior -- each Chapter boasts many such men amongst its roster -- he must also have a superhuman grasp of military strategy and combat tactics, as well as the intelligence to employ them in the ever-changing arena of warfare. It is commonly said in the Imperium that in terms of raw military might, every Space Marine is easily worth a dozen or so Imperial Guardsmen. Under the command of an experienced Captain, this value can swell tenfold.
A Space Marine Captain is not simply a master of warfare, he must also have the gift of diplomacy and political adroitness. While most Imperial Planetary Governors and Commanders are more than happy to receive aid from the Space Marines when in trouble, there are those whose arrogance must be carefully negotiated in order to prevent a battle's collapse into a true disaster for the broader Imperium through unnecessary political infighting. This is not to say a Space Marine Captain lacks for ultimate authority when dealing with hubris and failure to the Emperor -- as Captain Kayvaan Shrike of the Raven Guard's 3rd Company once proved by executing a vacillating Lord Cardinal Dostok on the spot. That said, subtler methods of diplomacy are best employed in grim situations -- the necessary punitive measures can be enacted after the threat has been ended. A Space Marine never bends the knee lightly to any non-Astartes, but the needs of the Emperor's realm must override any personal feelings. The mission is always all. Humanity shall be saved from its own petty failings, even if this must be done one world at a time.
Wargear
If serving as a Terminator, the wargear available to the Captain changes as follows:
If serving as a Cataphractii Terminator, the wargear available to the Captain changes as follows:
If serving as the rider of an Astartes Assault Bike, the wargear available to the Captain changes as follows:
Primaris Captain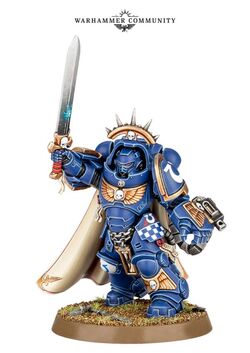 A Primaris Space Marine Captain serves essentially the same function commanding a company of Primaris Astartes as does his standard Astartes counterpart. The only difference beyond his physical enhancements lies in his wargear, as it does for all Primaris Space Marines. The Primaris Captain is a stoic, indomitable commander. He is as much a leader as he is a fighter, possessing masteries in both ranged and close quarters combat.
Wargear
If a Primaris Captain is wearing Mark X Gravis Power Armour, the wargear available changes as follows:
Chapter Variant Ranks
It is common in many Chapters of Space Marines to refer to their Captains as "Brother-Captain" in recognition of the reality that all Astartes, even those of the highest rank, are brothers-in-arms. Several Chapter maintain different titles for their Company Captains then the standard title proscribed by the Codex Astartes. A number of the most notable are described below:

*Note: This rank serves a different function in the Grey Knights hierarchy than a standard Astartes Captain.
Chapter Titles
In addition to the command of an entire company, it is common for Space Marine Captains to hold a variety of other formal titles and functional duties within the Chapter. The following is a list of the most common formal titles held by Space Marine Captains in a standard, Codex Astartes-compliant Chapter:
Sources
Gallery
Community content is available under
CC-BY-SA
unless otherwise noted.