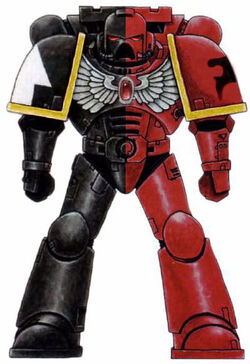 The Black Wings is a Loyalist Codex Astartes-compliant Space Marine Chapter of unknown origins and Founding.
In 700.M35, for unknown reasons, half the Chapter renounced their vows to the Emperor and turned upon their former brethren.
In the ensuing internecine conflict, much of the Black Wings' fortress-monastery was devastated and a number of their fleet vessels were destroyed until their traitorous kin were driven off-world.
Swearing an eternal oath of vendetta, the Black Wings changed their livery to a halved-pattern of crimson and black, until justice is finally visited upon their erstwhile kin and the Chapter's soul is fully healed.
Chapter History
Notable Campaigns
Chapter Appearance
Chapter Colours
The Black Wings once wore crimson Power Armour. After the treachery of some of their brethren in the late 35th Millennium, the Black Wings changed their livery, painting half of their armour black, until such time as all their wayward former brethren are captured or killed.
The Aquila or Imperialis on the chest is silver.
The white squad specialty symbol -- battleline, close support, fire support, Veteran or command -- is indicated on the right shoulder guard.
A black Low Gothic numeral is stenciled in the centre of the squad specialist symbol, indicating the squad number.
The shoulder plate trim displays the Company colour in accordance to the Codex -- i.e. White (1st Company), Yellow (2nd Company), Red (3rd Company), etc. Veterans of the elite 1st Company are also identified by their white helmets.
Chapter Badge
The Black Wing's Chapter badge is a single, black, leathery bat wing stretched outward to the right, centred on a field of red.
Sources
Adeptus Astartes: Successor Chapters (Limited Release Booklet), pg. 18
Imperial Armour Volume Two, Second Edition - War Machines of the Adeptus Astartes, pp. 17, 19
Imperial Armour Volume Thirteen - War Machines of the Lost & The Damned by Andy Hoare with additional material by Alan Bligh & Neil Wylie, pp. 22, 23, 47
Insignium Astartes, pp. 54, 56
Deathwatch 9: The Walker in Fire (Short Story) by Peter Fehervari
Gallery
Community content is available under
CC-BY-SA
unless otherwise noted.