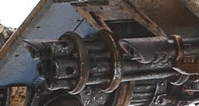 The Avenger Bolt Cannon is one of the primary weapons of both the Avenger strike fighter and the Fire Raptor gunship. It is a rapid-firing, rotary bolt weapon that is particularly effective in providing anti-armour fire support for forces on the ground.
Trivia
The Avenger Bolt Cannnon is similar in form, function and name to the United States Air Force's GAU-8 Avenger Gatling Gun, used on A-10 Thunderbolt II ground attack aircraft, which are also potent tank-killers.
Sources
Community content is available under
CC-BY-SA
unless otherwise noted.