"Use your Bike Squads as a blade, striking the enemy and turning aside his counter-blows in equal measure. But in all things, beware that speed is nothing without direction, just as the mightiest weapon is worthless without careful aim. A biker's stance should always be resolute and dauntless, but never immobile or rigid. Speed is his advantage, and surprise his deadliest weapon. In fluidity he will find success, and in success he will find renown."


—Roboute Guilliman, from the Apocrypha of Skaros
The Assault Bike, also known as the Space Marine Bike, is a light vehicle that is used throughout the Imperium by most Adeptus Astartes Chapters, and even by Renegade and Chaos Space Marines.
The Assault Bike is an extremely powerful machine, and is capable of propelling a fully armoured Space Marine at dizzying speeds while remaining responsive enough to perform a full-range of death-defying combat maneuvers. There are tales of experienced Space Marine Bikers who have driven their bikes through solid rockcrete walls at full speed without harm.
Assault Bikes usually operate in Bike Squads of up to eight and are used for fast-moving assault missions, intelligence gathering, infiltration, and general reconnaissance.
When Assault Bikes are used for assault missions they will attack the enemy at incredible speeds, using both surprise and unstoppable momentum to rip through enemy formations.
Before the enemy can regroup and go on the defensive, the Astartes Bikers will turn around and attack once again from an unexpected direction.
Bike Squad tactical strikes are often likened to thunderbolts, as by the time the enemy hears their approach, the damage has already been done.
In order for Space Marine Bikers to use their mechanical steeds at maximum efficiency they must function flawlessly as one, and to this end the Codex Astartes dictates that all Assault Marines, Scouts, and the entire 6th Company of a Chapter must master the art of mounted warfare as part of their training regimen.
There are several Chapters that take this further, with every Space Marine in the Chapter being required to maintain his mounted training, even if the Space Marine has long since passed into the ranks of the Chapter's 1st Company.
There is no Astartes Chapter that better exemplifies this philosophy better than the White Scars, who proudly employ Assault Bike Squads as the main body of their strike forces.
There are many other Chapters who are less enamored of an Assault Bike's tactical value, and prefer to send their assault forces into combat in Rhinos and Razorbacks instead.
History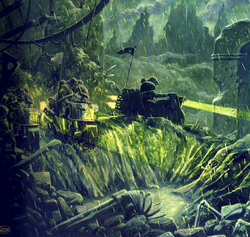 The Assault Bike, along with its Attack Bike variant, have been used by the Adeptus Astartes since the dawn of the Imperium. The Space Marine Legions that fought during the Great Crusade maintained entire companies of Assault Bikes as part of their Legion Outrider Squads for lightning fast attacks on their enemies. These vehicles were deployed during the Horus Heresy by both Loyalist and Traitor Legions alike.
During the Heresy many Legion Outrider Squads deploying Assault Bikes were used by the Traitor Legions to hunt down Loyalist survivors of the virus-bombing of Istvaan III, and the Drop Site Massacre on Istvaan V.
During the Siege of Terra, the White Scars Legion and their expert use of Assault and Attack Bikes helped keep the Traitor Legions away from the walls of the Imperial Palace, and after the walls were breached they were successful in capturing the Lion's Gate Starport and denied the Traitors many of their reinforcements.
Following the death of the Arch-traitor Horus, the Traitor Legions made a hasty retreat from Terra into the Eye of Terror, all the while being harried from world to world by White Scars Bike Squads.
Armament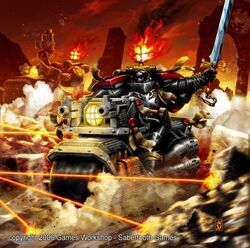 The standard Assault Bike used by both the Adeptus Astartes and the Chaos Space Marines is armed with twin-linked Bolters that are attached to the Bike's forward armour cowling, fixed to fire in the direction of travel.
The sheer amount of Bolter shells that can be brought to bear at whatever target that might stand in the way is often enough to make the enemy break and run before a Bike has even reached them.
While the Assault Bike itself is only lightly armed by most Adeptus Astartes vehicle standards, the vehicle's real firepower comes from its rider, who is always equipped with Frag Grenades, and can also employ Krak Grenades.
The rider is usually also equipped with a Bolt Pistol and a Chainsword, and can optionally make use of Flamers, Grav-Guns, Meltaguns, and Plasma Guns.
Bike Squad Sergeants, and sometimes regular Battle-Brothers from very well-equipped Chapters may also possess Hand Flamers, Infernus Pistols, Plasma Pistols, Grav-Pistols, Power Swords, Powerfists, Lightning Claws, Combi-Weapons, and Melta Bombs.
There are several less common Assault Bike armaments, such as Bikes adapted to be used by Chaplains, or to accept non-standard upgrades such as Smoke Launchers.
Assault Bikes used by Chaos Space Marines are usually equipped with the same Bike-mounted and rider-carried weaponry as their Loyalist counterparts, but there are some Chaos Space Marine Bikers that add various items and weapons to their vehicles, such as Doom Sirens, Chaos Icons, and spikes and hooks for cutting and impaling anyone who gets too close.
Chaos Bikers also make use of weapons that have long since vanished from most Space Marine armouries, such as Power Scythes and Chain Axes.
During the Great Crusade and Horus Heresy eras of the late 30th and early 31st Millennia, Assault Bikes could be equipped with weapons that are no longer commonly used by the Adeptus Astartes in the late 41st Millennium, such as twin-linked Flamers, twin-linked Meltaguns, and twin-linked Plasma Guns used in place of the standard twin-linked Bolters.
Unit Composition
Wargear
Each Biker and Sergeant in a Space Marine Bike Squad is armed and equipped with:
A Space Marine Sergeant or Veteran Sergeant may replace his Bolt Pistol with one the following weapons:
Any Space Marine Biker may replace his Bolt Pistol with the following:
Up to two Space Marine Bikers may replace their Bolt Pistols with the following:
An included Attack Bike may replace its side car-mounted Heavy Bolter with the following:
Formations
The following is a list of all known Adeptus Astartes battle formations that include Assault Bikes: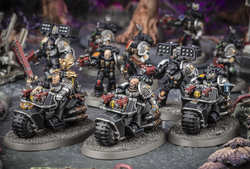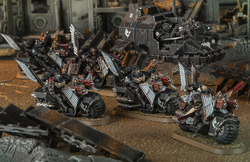 Assault Bike Variants
The Assault Bike, like many other Imperial vehicles, has over the years had numerous variant patterns created by the Adeptus Mechanicus or various Space Marine Chapter Armouries with a wide array of different weapon and feature combinations. Out of these many variants those officially recognised by the Adeptus Mechanicus and most commonly employed by Astartes Chapters are featured below: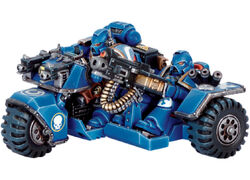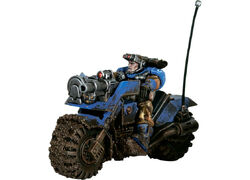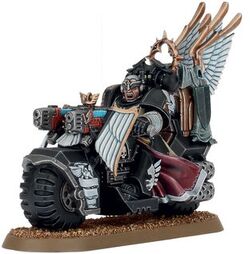 Chaos Assault Bikes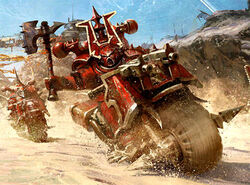 The Assault Bike is also used by the Traitor Legions and Renegade Space Marine Chapters. The Assault Bikes used by Chaos Space Marines are similar to the ones used by their Loyalist counterparts, although Chaos Bikes are usually covered in various spikes and spurs that are used to cut enemies apart as they pass by. Chaos Assault Bikes are used as fast-moving reconnaissance vehicles to scout out enemy positions and eradicate those units which are too slow to pose a threat.
Chaos Space Marine Bikers are recognised, even among other Chaos Space Marines, as ruthless and cruel individuals and will often pursue a foe for miles, due to both their determination to achieve the kill, and as a perverse method of torturing their victim.
Originally, Assault Bikes were simply seen as another piece of hardware to its Chaos Space Marine operator, but over thousands of Terran years of exposure to the Warp, man and machine have become almost a single entity, much like the crew and pilots of other Chaos Vehicles.
Chaos Space Marine Bikers usually operate in squads of up to ten, which can include a Biker Champion. Chaos Assault Bikes are armed with similar weaponry to that of the standard Imperial Assault Bike, which includes a set of twin-linked Bolters located on the bike's handlebars. Chaos Assault Bikes can also be armed with sets of twin-linked Flamers, Meltaguns, and even Plasma Guns in place of their standard Bolters.
Assault Bikes that are aligned to the Chaos God Slaanesh can also be armed with Doom Sirens. The Chaos Space Marine who operates the Assault Bike may be armed with a Bolt Pistol or a close combat weapon such as a Chainsword, along with a Frag Grenade and a Krak Grenade.
Biker Chaos Champions can be armed with Plasma Pistols and Power Swords or Powerfists, and can also be equipped with a Melta Bomb. These Champions can also be mutated by their exposure to the Warp and as a result of the "gifts" bestowed upon them by the Gods of Chaos. The Assault Bike itself offers little protection to its operator, and as such all Chaos Space Marine Bikers wear their Power Armour at all times. A member of a Chaos Assault Bike Squad may also take into battle an Icon of Chaos, and may also carry Marks of Chaos.
Notable Chaos Bikers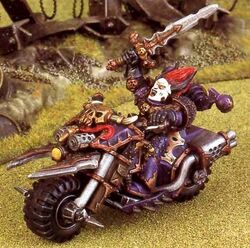 Notable Users of the Assault Bike
The Assault Bike has been in use by the Adeptus Astartes since the Great Crusade, and the Traitor Legions took theirs with them after the Horus Heresy. In the 41st Millennium most, if not all, Space Marine Chapters make use of the Assault Bike in some fashion or another. Below are some of the more notable users of the Assault Bike:
Space Marine Chapters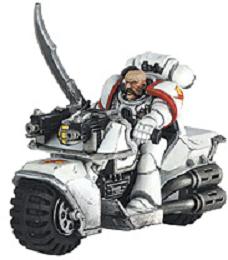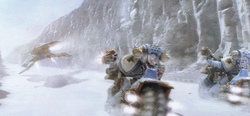 Traitor Legions
Adeptus Mechanicus Technical Specifications
Technical specifications for this vehicle have not been released by the Adeptus Mechanicus.
See Also
Sources
Gallery