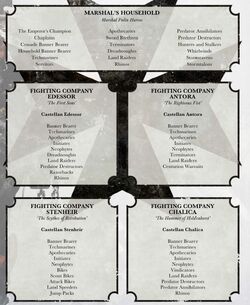 The Arkron Crusade was a Crusade Fleet launched by the Black Templars Chapter of Space Marines. Imperial records contain almost no information on why the Crusade was called, what its target and objectives were, or what it accomplished.
The Black Templars are a fleet-based Chapter, their companies scattered across the galaxy into numerous Crusades. Each Crusade is led by a Marshal, while a single High Marshal is responsible for the progress of all the current Crusades.
Below is the order of battle of the Arkron Crusade, launched into the Ghoul Stars during the closing years of the 38th Millennium. A typical Black Templars Crusade, it numbered hundreds of Battle-Brothers, war machines and support elements, allowing it to campaign far beyond the Imperium's borders. Its order of battle is outlined below.
Arkron Crusade Order of Battle
Fighting Company Edessor, "The First Sons"

Commanded by: Castellan Edessor
Banner Bearer
Techmarines
Apothecaries
Initiates
Neophytes
Dreadnoughts
Land Raiders
Predator Destructors
Razorbacks
Rhinos
Fighting Company Antora, "The Righteous Fist"

Commanded by: Castellan Antora
Banner Bearer
Techmarines
Apothecaries
Terminators
Land Raiders
Fighting Company Stenheir, "The Scythes of Retribution"

Commanded by: Castellan Stenheir
Banner Bearer
Techmarines
Apothecaries
Initiates
Neophytes
Fighting Company Chalica, "The Hammer of Heldenhorst"

Commanded by: Castellan Chalica
Banner Bearer
Techmarines
Apoothecaries
Initiates
Neophytes
Land Raiders
Predator Destructors
Predator Annihilators
Rhinos
Sources
Codex Supplement: Angels of Death (7th Edition), pg. 30
Community content is available under
CC-BY-SA
unless otherwise noted.