The 34th Psian Vipers are an elite Tempestus Scions regiment of the Ordo Tempestus that are known for the stalwartness and tenacity in the face of overwhelming odds.
Regimental History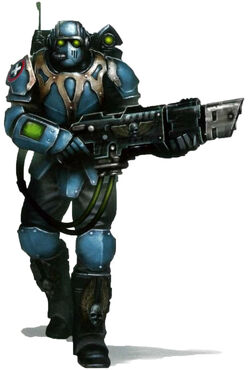 The soldiers of the 34th Psian Vipers make up a tenacious regiment, even for the Militarum Tempestus. This has been proven on numerous occasions, but none more effectively than on the industrial Agri-World of Marunda II. In 998.M41 the Imperial mining operations delved too deep into the planet's crust and disrupted dormant Necrons. The awoken warriors marched through the colossal tunnels, their gauss weaponry flickering off walls and ancient machinery as they atomised thousands of menials and servitors. The vast regiment of the 34th Psian Vipers made planetfall and descended into the tunnels in their Taurox Primes to strike at the heart of the alien threat. They blasted away at swarms of Scarabs while their vehicle-mounted volley guns vaporised dozens of implacable Necron Warriors.
When the main entrance tunnels collapsed the 34th Psian Vipers were forced to continue fighting within the total darkness. They were not concerned with the escape from the underground prison, for their orders were simply to destroy the Necron threat. Thus the Scions continued fighting for weeks. Their sensors and auspexes enabled them to keep track of the ever-advancing robotic forms, and through sheer dogged determination and intelligent, improvised tactics from Tempestor Prime Rodros, the Scions eventually destroyed every Necron on Marunda II. Only then did the Scions consider their escape options and set about leaving the planet.
Regimental Appearance
Regimental Colours
The Tempestus Scions of the 34th Psian Vipers primarily wear sky gray-coloured fatigues with azure blue-coloured Carapace Armour with silver-coloured trim, as well as azure blue-coloured knee guards, Slate Monitron, and Omnishield Helm.
Regimental Badge
The origins of the 34th Psian Vipers' insignia are uncertain. Some believe it to be a simple sign of negation, a blunt statement against the regiment's many foes. Others claim that the cross itself has some deeper meaning, hidden within sealed files in the Vipers' Schola Progenium archives.
Sources
Codex: Militarum Tempestus (6th Edition), pg. 31
Community content is available under
CC-BY-SA
unless otherwise noted.